iRa-iSh
"I believe in music and its power to save the world from itself."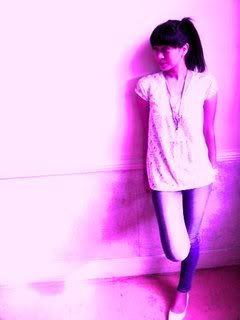 if ala is "ism"
and casper is "ness"
THEN...
iRa is "ish"
oh so ira ish
Ira Lipat, 21 years old, blogging since 2006 on blogspot and blogging on livejournal since 2003.
MODEL ROCKER ACTRESS
a Punk Rock Princess
searching for the perfect...
Garage Band King
band aid
vanity heiress
silent killer
pathetic slayer
apathetic being
harlequin lover
reserved person
NOTE:
this is my most publicized and most active website on cyberspace. :)
the things i write here were true to me at the moment they were written. they may no longer hold true tommorow, depending on how life changes me, and what new experiences teach me. i am a work in progress, and nothing i put out today is absolute.
believe or agree with what i say only if it resonates with your own truth. disagreement is also welcome, but malice is not. discussion and ideas are always welcome. feel free to be heard using my chatbox underneath.
Nobody forces you to visit this site and read what i have to say. i simply ask you to be responsible for whatever you put out on internet, and to be aware of negative energy you might dispense out into the world. so if what you have to say is purely for destructive purposes, you can take your opinion somewhere else.
Rock my World.
Crowd
my lj

my multiply

my friendster

my imeem

ags

andee

au

aufie

cheezza

ienne

joshua

maggie

marc

mitch

philip

rae

sandy

syndy

tanya

tin

tyrus


Past



08.06
09.06
10.06
11.06
12.06
01.07
02.07
03.07
04.07
05.07
06.07
07.07
08.07
09.07
10.07
11.07
12.07
01.08
02.08
03.08
04.08
05.08
06.08
07.08
08.08
09.08
10.08
11.08
12.08
01.09
02.09
03.09
04.09
05.09
06.09
07.09
08.09
09.09
10.09
11.09
Featured Music